Google Cloud Platform is required as a prior condition for Passwd. GCP is a paid service but the price is low and there is a 12-month free trial available. In this post, we clarify the additional cost for this service – it's as low as tens of dollar per month.
Before we move on to the actual price, let us remind you that Google offers a GCP Free Tier. You'll get free usage of select product + $300 to spend on Google Cloud Platform products during your 12-month free trial if you are new to GCP. This means that you'll pay nothing at all for the Google Cloud Platform in the first year. Unless, of course, you use it for different purposes too.
There is no exact or one-off price since the service is continuous and the price depends on the extent of your activity and size of your company. Here, we give a real example of our client's usage of Passwd hosted in the Google Cloud Platform.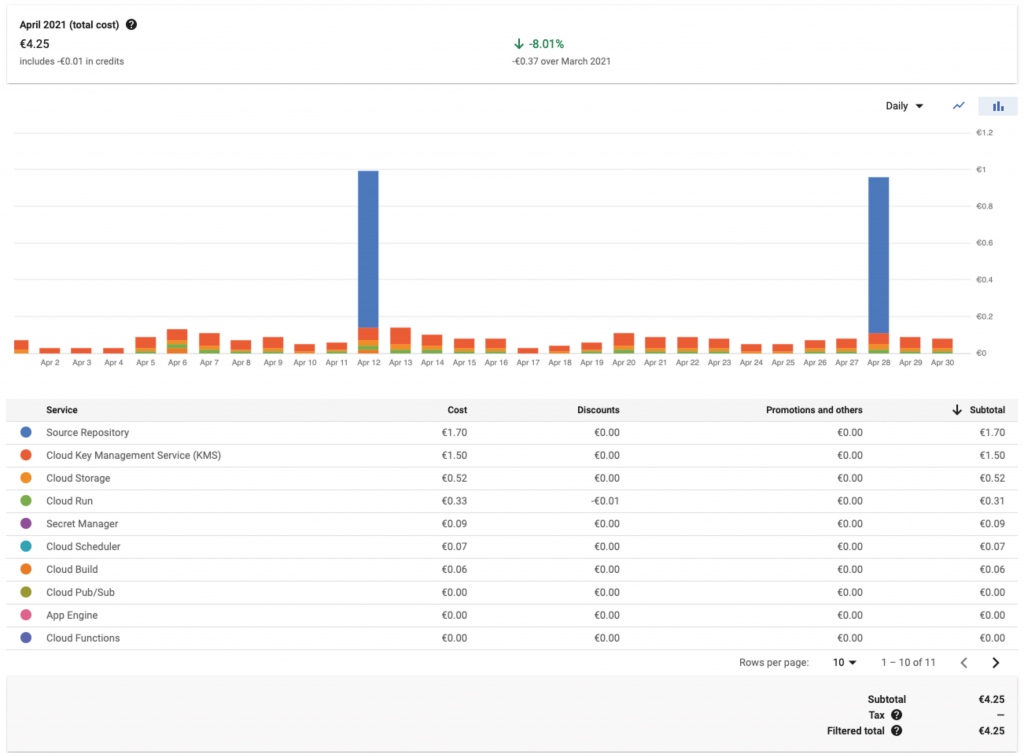 The company is comprised of 75 people who use Passwd daily. The total cost for one month of usage in April 2021 was €4.25. 
And, by the way, the average cost to rent a small business server is more than $100, purchasing one is at least ten times more expensive. Not to speak of the maintenance costs and security risks. We use GCP because we think it's a really good deal. And we also trust the Google Cloud Key Management Service because it's transparent and reliable. What's more, Google services help us maintain GDPR and SOC 2 compliance.
Learn more about the installation to your Google Workspace (formerly G Suite).